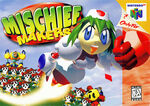 Mischief Makers is a Single-Player Video Game for the Nintendo 64 which was released in the United States, October 1st, 1997. The protaganist is the Ultra-Intergalactic-Cybot G, Marina Liteyears. She must protect the clumsy, lighthearted Professor Theo from the evil emperor. While visiting the Planet of Clancer the Professor gets kidnapped by the evil Empire. She must travel to different worlds and to save the professor from the Empire. To get a 100% completion in the game you must collect all gold gems in each level.
Ad blocker interference detected!
Wikia is a free-to-use site that makes money from advertising. We have a modified experience for viewers using ad blockers

Wikia is not accessible if you've made further modifications. Remove the custom ad blocker rule(s) and the page will load as expected.