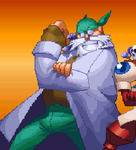 Professor Theo is a very knowledgable professor who gets kidnapped when Marina scouts the planet of Clancer. He appears to be very clumsy and depends on Marina to help him with his personal predicaments. His famous words are "Help me, Marina!". He has been swallowed, punch, kicked, captured, and made fun of. He's a self-proclaimed "master of robotics". Something that his brother Leo always envied him for.
Ad blocker interference detected!
Wikia is a free-to-use site that makes money from advertising. We have a modified experience for viewers using ad blockers

Wikia is not accessible if you've made further modifications. Remove the custom ad blocker rule(s) and the page will load as expected.